Fran González has held a meeting with those responsible for the firm specializing in material and products for fishing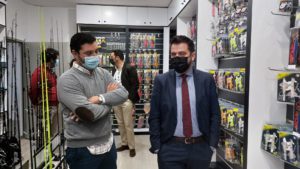 El delegado del Estado en la Zona Franca de Cádiz, Fran González, visitó en la mañana de ayer las instalaciones de la empresa JLC Lures (Jigging a la Carta) ubicadas en San Fernando, empresa especializada en material y productos de la pesca. También estuvieron en la visita el presidente de la Confederación de Empresarios de Cádiz (CEC), Javier Sánchez Rojas, y el vicepresidente de la entidad, José Andrés Santos.
El responsable del Consorcio aprovechó la visita para conocer de primera mano la actividad y el trabajo desarrollado por esta firma en un momento en el que la Zona Franca está impulsando proyectos e ideas vinculadas a la Economía Azul en el marco de Incubazul, su incubadora cofinanciada por Fondos Feder.
Fran González ha mostrado su satisfacción por el gran talento y potencial que se ve día a día en empresas y emprendedores gaditanos, sobre todo en estos campos de la economía verde y azul que son el futuro y en los que la Zona Franca de Cádiz se está moviendo actualmente con su incubadora, en pleno proceso de captación de proyectos e ideas para que crezcan y se consoliden, y con el nuevo modelo industrial comprometido con el medioambiente y las generaciones venideras.