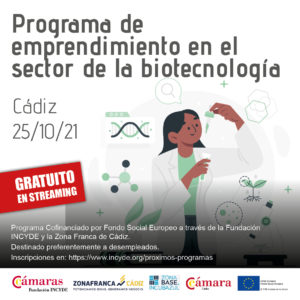 Esta nueva acción formativa conjunta comenzará el 25 de octubre, es gratuita y se realiza también vía streaming
El sector biotecnológico tiene cada vez mayor peso en el panorama empresarial y entronca de lleno con el nuevo modelo industrial del Consorcio en campos como la economía azul y el cuidado del medioambiente
Los interesados pueden informarse e inscribirse en https://www.incyde.org/proximos-programas
Una nueva acción formativa toma cuerpo en el trabajo conjunto que está llevando a cabo la Zona Franca de Cádiz con la Fundación Incyde de las Cámaras de Comercio para fomentar el autoempleo y la creación de empresas. Entrepreneurship in the biotechnology sector es el nuevo programa que han organizado ambas entidades y que comenzará el próximo 25 de octubre, también en streaming y gratuito.
El programa para el autoempleo se adentra en el campo de la biotecnología, un sector que tiene cada vez un mayor peso en el panorama empresarial y con perspectivas de mantener una evolución positiva y progresiva a medio y largo plazo. En gran medida, esto se debe al carácter transversal que posee la biotecnología, ya que cada vez más empresas de diferentes sectores incorporan actividades biotecnológicas a sus productos y servicios.
De hecho, el campo biotecnológico entronca directamente con el nuevo modelo industrial que está implantando la Zona Franca de Cádiz, con la economía azul y el compromiso y respeto al medioambiente, ya que la biotecnología se aplica en sectores que van desde el industrial hasta en procesos que tienen relación con el mar pasando por la agricultura, la medicina y el cuidado del medioambiente.
Hay que recordar que Incubazul, la incubadora vinculada a la economía azul de Zona Franca subvencionada por Fondos Feder, alberga proyectos e ideas que desarrollan su trabajo con los recursos naturales obtenidos del mar siendo cuidadosos y comprometidos con el medioambiente.
Zona Franca de Cádiz y Fundación Incyde pretenden que a través de este programa, con un cupo de entre 22 y 25 plazas, los bioemprendedores aprendan a identificar cuándo una idea puede ser idea de negocio, apoyándose en un Plan de Empresa para definir la hoja de ruta que deben seguir en la puesta en marcha de su proyecto.
The program Emprendimiento en el Sector de la Biotecnología forma parte del Plan de recuperación de empleo y creación de empresas y está dirigido a empresarios y emprendedores del sector biotecnológico y personas interesadas en la gestión de pequeñas empresas del sector biotecnológico y tendrán prioridad aquellos que actualmente estén en situación de desempleo.
Éste es el segundo de los dos ciclos que la Zona Franca de Cádiz e Incyde han congeniado realizar dentro del Programa Operativo de Empleo, Formación y Educación (POEFE), que cuentan con financiación de Fondos Europeos y del Consorcio Gaditano.
El objetivo del programa es guiar a empresarios y emprendedores en su trabajo tanto de crear como de consolidar una empresa en el sector biotecnológico, identificar oportunidades de negocio en torno al sector biotecnológico y comprender la importancia que tiene elaborar un plan de empresa o de negocio, orientado hacia un concepto 4.0 y de transformación digital, entre otras tareas.
El delegado del Estado en la Zona Franca, Fran González, agradece a la Fundación Incyde y a las Cámaras de Comercio su colaboración en estas acciones formativas, que "son muy valiosas para fomentar el emprendimiento y la creación de empresas y que ayudan a sacar a la luz proyectos e ideas interesantes y de gran valor para la sociedad ya que no hay que olvidar que, además de a esos campos que nos tocan directamente como industria o economía azul, la biotecnología se aplica también a la medicina. Este segundo programa reafirma nuestro compromiso y nuestra estrecha relación con la Fundación Incyde para trabajar por el fomento del empleo".
Este programa tiene una estructura muy similar al anterior y se compone de varios módulos que cubren todo el temario necesario para el buen desarrollo y crecimiento de una empresa. De esta forma, se tratará la dirección de proyectos, el marketing, la comercialización y promoción, aplicaciones informáticas y finanzas, entre otros temas. Además de las sesiones de formación conjunta, habrá acciones de acompañamiento y consultoría individualizada y mentoring y seguimiento.
El pasado lunes se inició la primera de las acciones formativas, el Programa de Creación y Consolidación de Empresas del sector marítimo, que se prolongará también hasta el próximo mes de diciembre.
Los interesados en participar en este programa pueden acceder a la información e inscripciones en el enlace https://www.incyde.org/proximos-programas