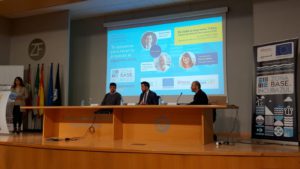 Pedro Alvarez and Enrique Briehl have participated in a talk in the Heracles building within the framework of the actions to revitalize projects that the Zona Franca is carrying out with the support of Telefónica
The business incubator specialized in the blue economy, co-financed with Feder Funds through the Incyde Foundation, has its first access phase open until Friday 18
Pedro Alvarez, from Chocolates Pancracio, and Enrique Briehl, from LEC Ilumina, gave a talk yesterday at the Heracles building in the Zona Franca interior in which they explained their respective experiences in the field of entrepreneurship, serving as an example and case study for those interested in accessing Incubazul, the blue economy incubator of the Cádiz Free Trade Zone, within the framework of a series of actions to stimulate and capture projects and ideas interested in becoming a company and consolidating.
The Free Zone delegate, Fran González, was in charge of opening the day and encouraged anyone who has an idea or project to use the tool they have with Incubazul. Then he gave way to both businessmen, who explained to the attendees the evolution of their companies and their experience in international markets, creating a lively final debate with the public.
At the moment the Consortium, which has the support of Telefónica, has already held two Open Days, which have put potential incubators in contact with the mentors who are part of the incubator's ecosystem, as well as a meeting with the University of Cádiz to bring Incubazul closer to the university community.
The Incubazul High-Tech Incubator is a project that was born thanks to the support of the European Union, which co-finances it, through the INCYDE Foundation, 80% by the ERDF within the 2014-2020 Multi-regional Operational Program within axis 3: Improving the Competitiveness of SMEs, Thematic Objective 3 Improving the competitiveness of small and medium-sized enterprises, and investment priority 3a Fostering entrepreneurship, in particular, facilitating the economic exploitation of new ideas, and promoting the creation of new companies, also through nurseries.
The overall period for receiving applications runs from February 21 to November 18, although it is divided into four phases (BATCH) for the selection of initiatives or projects. The first will close on March 18 and February and March applications will be analyzed; the second BATCH will conclude on June 17 for April, May and June applications; the third BATCH, which will close on September 16, will collect the applications for July, August and September; and the fourth and last will close on November 18 for October and November applications.
Those interested in being incubated in Incubazul can access the information on the Open Future enabled platform through the website www.openfuture.org, where they can also fill out the participation form and include the information and documentation that is required or considered of interest. In addition, those interested can obtain information about the project and how to access it on Incubazul's own website, whose address is www.incubazul.es.