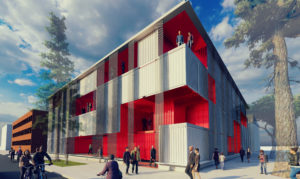 Two Open Days are scheduled to be held on March 9 and 14 in the Melkart building and a talk on March 15 by Pedro Alvarez, founder of the Ideologist and Chocolates Pancracio company, in the Heracles building.
También se desarrollará una jornada informativa el día 14 por la tarde en el campus de Puerto Real para explicar los detalles de Incubazul a la comunidad universitaria
La incubadora de empresas especializada en economía azul, cofinanciada con Fondos Feder a través de la Fundación Incyde, cuenta con el apoyo de Telefónica
El primer plazo para optar a la incubación se cierra el 18 de marzo aunque se van a abrir posteriormente otros tres más más, el último con fecha límite del 18 de noviembre
La Zona Franca de Cádiz inicia la semana próxima las acciones de dinamización y captación de proyectos e ideas para Incubazul, su incubadora de economía azul que irá alojada en Zona Base, en el polígono exterior de la Zona Franca, que ya ha comenzado a funcionar en el recinto interior y tiene abierto el plazo para todos aquellos que quieran formar parte del programa de aceleración de empresas. Zona Franca cuenta con el apoyo de Telefónica.
Los eventos que se desarrollarán en las próximas dos semanas son cuatro. Los próximos 9 y 14 de marzo se celebrarán dos Open Days en horario de mañana consistentes en varios networking con los mentores asignados, abiertos para todos aquellos emprendedores con un startup o proyecto que estén interesados en formar parte de Incubazul y que quieran participar en los mencionados Open Days previa solicitud. Además, el día 14 se desarrollará una jornada informativa por la tarde en el campus de Puerto Real.
Posteriormente, el martes 15 de marzo, en jornada de tarde, concretamente con inicio a las 17 horas, tendrá lugar una charla en el salón de actos del edificio Heracles que correrá a cargo de Pedro Alvarez, fundador de la empresa gaditana Ideólogo, un estudio de creación y gestión de marcas, y creador también de Chocolates Pancracio, que expondrá detalles sobre su actividad y resaltará la oportunidad que supone contar con Incubazul en Cádiz para poner en marcha y acelerar los proyectos/ideas de economía azul. Los interesados pueden acceder a toda la información y solicitudes en la web www.incubazul.es
La Incubadora de Alta Tecnología Incubazul es un proyecto que nace gracias al apoyo de la Unión Europea que lo cofinancia, a través de la Fundación INCYDE, en un 80% por el FEDER dentro del Programa Operativo Plurirregional 2014-2020 dentro del eje 3: Mejorar la Competitividad de las PYMES, Objetivo Temático 3 Mejorar la competitividad de las pequeñas y medianas empresas, y la prioridad de inversión 3ª Fomento del espíritu empresarial, en particular, facilitando la explotación económica de nuevas ideas, y promoviendo la creación de nuevas empresas, también mediante viveros.
The overall period for receiving applications runs from February 21 to November 18, although it is divided into four phases (BATCH) for the selection of initiatives or projects. The first will close on March 18 and February and March applications will be analyzed; the second BATCH will conclude on June 17 for April, May and June applications; the third BATCH, which will close on September 16, will collect the applications for July, August and September; and the fourth and last will close on November 18 for October and November applications.
Projects interested in entering Incubazul must be linked to the blue economy sector, a field that encompasses subsectors as diverse as marine bioresources, coastal tourism, short and long-distance maritime navigation, recreational navigation and ports, transport services passenger or freight shipping, fishing, aquaculture, coastal protection, offshore wind energy, monitoring and surveillance, blue biotechnology, desalination, marine aquatic products, marine mineral extraction, ocean renewable energy, etc. In addition to being linked to the blue economy, the initiatives and/or business projects of the candidates must be technologically based and innovative.
Those interested in being incubated in Incubazul can access the information on the Open Future enabled platform through the website www.openfuture.org, where they can also fill out the participation form and include the information and documentation that is required or considered of interest. In addition, those interested can obtain information about the project and how to access it on Incubazul's own website whose address is www.incubazul.es.