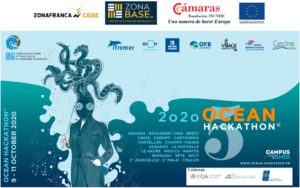 Este evento científico internacional sobre Economía Azul que organiza la Zona Franca comienza mañana viernes y reunirá durante todo el fin de semana a estos 57 investigadores en torno a 9 retos que compiten en el desarrollo de un prototipo a partir de datos marinos y examinan sus usos y aplicaciones
La participación en Cádiz es una de las más altas de la competición ya que la media de las inscripciones delas otras 15 ciudades que participan ronda los 30 inscritos
El programa para todo el fin de semana alterna la investigación y el trabajo por equipos con sesiones de mentorización para los proyectos en áreas como modelos de negocio, oceanografía, desarrollo informático o propiedad intelectual
Los retos participantes abordan temáticas como la contaminación y la basura marina, el turismo azul, la educación azul o el a ahorro de combustible en la navegación
El domingo por la tarde se conocerá el ganador que competirá representando a Cádiz en la gran final de Brest a finales de año
Además, el Consorcio va a premiar a todos los retos participantes con un periodo de incubación gratuito en su incubadora de alta tecnología Incubazul en el marco del proyecto Zona Base
La participación en el Ocean Hackathon 2020 que celebra la Zona Franca de Cádiz este fin de semana ha alcanzado 57 inscritos, una cifra que supera las expectativas iniciales y que sitúa a Cádiz como una de las 16 ciudades competidoras con más éxito de convocatoria, por encima de la media del resto de localidades que ronda los 30 inscritos.
Con este éxito de participación se da mañana viernes a las 14:30 comienzo a este evento científico internacional en el que Cádiz será epicentro de la investigación en Economía Azul durante todo el fin de semana. Así, el recinto fiscal de la capital acogerá durante 48 horas a los 57 expertos y estudiosos en el ámbito de los océanos inscritos y que se han unido a alguno de los 9 retos seleccionados este verano y que compiten por representar a Cádiz en la final que se celebrará en Brest. Todos los retos fueron seleccionados cumpliendo criterios de vinculación con el mar, uso y disponibilidad de datos, innovación y originalidad y conservación del océano.
De esta forma, Cádiz y simultáneamente otras 15 ciudades marítimas del mundo se convertirán durante todo el fin de semana en un laboratorio de ideación para los equipos participantes que tendrán que desarrollar, a través de la tecnología y diferentes variables y datos científicos, aquellas propuestas y retos de mayor interés para la protección de los océanos, teniendo como objetivo la creación de herramientas para la mejora de los océanos.
The programa del evento va a ser intenso (aquí lo adjuntamos https://cutt.ly/XgrQhda) y va a alternar sesiones de trabajo en equipo sobre las temáticas de los 9 retos con sesiones de mentoring con expertos que van a aportar conocimientos y valor añadido a los retos en materias como modelos de negocio, oceanografía, desarrollo informático o propiedad intelectual. Hay que recordar que la temática de los retos va desde el desarrollo de una app que permita evaluar la contaminación de la basura en el mar o una app para el turismo azul; la valoración de la basura en el mar a través de drones; el uso de la basura marina en la elaboración de material escolar para la educación azul; o el desarrollo de un logaritmo para el ahorro de combustible y la reducción de contaminación en la ruta de transporte marítimo, entre otros.
Tras los dos días de trabajo, el domingo por la tarde se conocerá el reto ganador que obtendrá la posibilidad de competir representando a Cádiz en la final de Brest del próximo diciembre. Entre los criterios para su designación se valorará la dimensión ambiental y social, el modelo de negocio, la calidad del producto y el uso de datos, entre otros.
Además, la Zona Franca va a premiar a todos los retos participantes con un periodo de incubación gratuito en la incubadora de alta tecnología Incubazul que se ha puesto en marcha en el marco del proyecto Zona Base que va a permitir favorecer la maduración y darle recorrido empresarial a las ideas presentadas, pudiendo promover e impulsar todo su potencial en torno a la Economía Azul.
In fact, the Ocean Hackathon® 2020 is the first internationalization action of this incubator that is subsidized with funds granted by the Spanish Feder 2014-2020 Pluriregional Operational Program "A way to make Europe" and managed by the Incyde Foundation.
Hay que señalar que junto con el Consorcio colaboran de manera activa con el Ocean Hackathon 2020 la Universidad de Cádiz (UCA), también a través del Campus de Excelencia Internacional del Mar CEIMAR y el CEEI Bahía de Cádiz.
Un programa adaptado a las circunstancias especiales por la Covid
La Zona Franca de Cádiz como organizador del Ocean Hackathon ha planteado la celebración del evento teniendo en cuenta las circunstancias especiales derivadas de la pandemia y ha reforzado todas las medidas Covid-19 para mantener el carácter presencial de los equipos por la riqueza que aporta a la investigación las dinámicas de equipo y el contacto con los mentores/expertos, que también estarán presentes junto a miembros del jurado durante el fin de semana para ofrecer sus servicios e ir viendo la evolución de los retos.
En este contexto, el Consorcio ha habilitado el patio central y salas del edificio Melkart; el salón de actos y la sala de exposiciones del edificio Heracles; y la plaza central entre ambos edificios, todos ellos espacios y servicios amplios y acondicionados para que los participantes de todos los grupos se puedan reunir y desarrollar sus retos en condiciones óptimas.