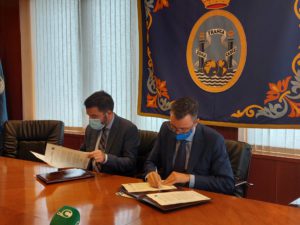 El delegado del Estado, Fran González, y el director territorial de la compañía, Joaquín Segovia, han firmado esta mañana el contrato por el cual la compañía se encargará de dinamizar e impulsar el crecimiento de los proyectos alojados en Incubazul
La incubadora de alta tecnología está financiada en un 80% por Fondos Feder
Incubazul irá alojada en Zona Base, un centro de innovación y expansión tecnológica ubicado en el polígono exterior, que será un referente en originalidad y sostenibilidad ya que el edificio estará conformado por contenedores marítimos reciclados
Incubazul, la incubadora de economía azul financiada con Fondos Feder que está desarrollando la Zona Franca, contará con la especialización de Telefónica para el crecimiento de los proyectos incubados. Así lo han ratificado esta mañana el delegado del Estado en la Zona Franca, Fran González, y el director general de Telefónica Territorio Sur, Joaquín Segovia, en el acto de firma del contrato celebrado en el Consorcio.
Telefónica pondrá todo su potencial en los servicios especializados que ofrecerá a Incubazul y que están dirigidos a la gestión y dinamización del sistema de aceleración de proyectos que se seleccionen para ser alojados en este centro vinculado a la economía azul, que cuenta con financiación del 80% del Fondo Europeo de Desarrollo Regional dentro del Programa Operativo Plurirregional de España Feder 2014-2020 "Una manera de hacer Europa".
Según recoge el contrato firmado, Telefónica proporcionará sus recursos y conocimiento para prestar una asistencia técnica especializada y ejecutar un conjunto de acciones dirigidas a la aceleración y crecimiento de los proyectos incubados para que se conviertan en empresas viables.
De esta forma, los proyectos que accedan a la incubación en Incubazul contarán con la experiencia y trayectoria de la empresa tecnológica para recibir asesoramiento, mentorización y apoyo a la internacionalización durante todo el proceso, entre otros servicios, con el consiguiente valor añadido que supone para los proyectos contar con el prestigio y la experiencia de Telefónica.
Telefónica dará a Zona Franca el servicio necesario para impulsar el crecimiento de los incubados, que recibirán también formación, networking y asesoramiento para el acceso a la financiación, dinamizando la actividad de Incubazul mediante actuaciones encaminadas a la captación de talento y proyectos empresariales.
Asimismo, realizará iniciativas de consolidación y enriquecimiento del ecosistema necesario para desarrollar la actividad de la incubadora, con el fin de contribuir a la creación y consolidación de nuevas empresas vinculadas a la economía azul y al nuevo modelo industrial de sostenibilidad y compromiso medioambiental que está desarrollando la Zona Franca de Cádiz.
El importe total del contrato es de 990.476,11 euros (IVA incluido) y abarca la prestación de servicios para tres ejercicios, finalizando en 2023, e incluye partidas para actividades de consultoría y asistencia técnica especializada, mentoring, formación y programas de actividades, eventos y encuentros.
Hay que recordar que Zona Base será un centro de innovación y expansión tecnológica que se está desarrollando en el polígono exterior de la Zona Franca y que será un referente en originalidad y sostenibilidad ya que el edificio estará conformado por contenedores marítimos reciclados, configurando un espacio versátil con una imagen novedosa que articulará la conexión entre el polígono exterior de la Zona Franca y el resto de la ciudad y estará en consonancia con el nuevo modelo industrial de la Zona Franca, basado en la sostenibilidad y el respeto al medio ambiente
The State delegate in the Free Trade Zone, Fran González, has highly valued this new step in the development of Incubazul since "Telefónica's specialization in this type of action will provide us with significant added value in the start-up of the incubator and will offer highly qualified benefits to those incubated".
"Esta colaboración con Telefónica contribuirá a que Zona Base y su incubadora sean un verdadero centro de referencia en economía azul, un modelo a seguir en industria sostenible y compromiso con el futuro en la ciudad de Cádiz, en la línea que estamos imprimiendo en todos nuestros proyectos y equipamientos", ha explicado.
Fran González has added that the concept of sustainability in this project is even applied to the building itself since "the construction in which the incubator is housed will be made up of recycled maritime containers, which have a useful life of 10 to 15 years, and linked to the sea. This project is a completely different concept from traditional industry, with green spaces and energy that comes from the photovoltaic roof".
El proyecto Zona Base Cádiz y su incubadora de economía azul, que se está desarrollando en la antigua parcela de Ibérica Aga en el polígono exterior de la Zona Franca, nacen para atraer industria 4.0. y generar un espacio de oportunidad para el talento gaditano. Así, el Consorcio apuesta por un modelo de economía sostenible y utilización responsable de los recursos naturales que conecte todo el potencial marino de nuestra provincia con nuevas estrategias de negocio que generen riqueza y empleo.