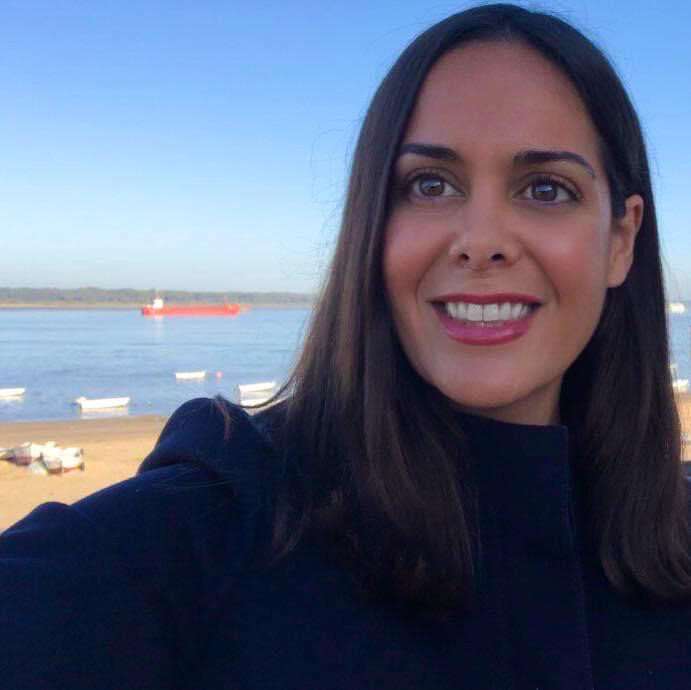 María Gálvez del Castillo Luna (Sanlúcar de Barrameda, 1983) is an oceanographer, environmentalist, mentor of Incubazul and a staunch defender of the role of women in the world of the sea. She quotes Virginia Wolf when in "A Room of One's Own" she claimed that "anonymous was a woman." She also remembers the role of women like her grandmother "who already worked in what we now call the Blue Economy, without knowing it."
The oceanographer from Cádiz has extensive professional experience related to the sustainable blue economy, and extensive background in national and international institutions and organizations (United States, Mexico or Italy). In addition, she has been selected, among other positions, as Ambassador of the European Union Climate Pact by the European Commission, she is an expert in the GYLF global forum and a collaborator in various projects and international media.
But today we focus on her facet as a woman, and María Gálvez commemorates, with Incubazul, the international day of 8M. In this interview, she takes a brief tour of the women who have marked the history of the sea and the blue economy and a clear demand for women to reach a leadership that until now has been very unrepresentative on the boards of directors of companies and organizations. María also reminds us of the hopeful future that awaits women, since the sea is a powerful engine of development.
What importance has women had in the world of the sea?
Women have had significant importance and their contribution has been fundamental, despite the fact that work at sea has traditionally been considered a male task and specific gender roles have been established. Women were even prohibited from embarking as crew members on ships until not too long ago.
As Virginia Woolf wrote in A Room of One's Own: "Anonymous was a woman." Many of the achievements that women achieved are not visible. The first women we know of who excelled in this field had to embark disguised as men. This was the case, for example, of Jeanne Baret, the first woman to circumnavigate the oceans, and that of the famous Caribbean pirate Anne Bonny.
But they not only had limited access to ships and ports, but also to the university. This fact further limited the possibilities for women to participate in expeditions or in scientific-technical tasks related to the sea.
Spanish pioneers, such as Jimena Quirós and Emma Bardán, did not embark on national ships until the twenties.
Currently, women play various roles related to the sea and the blue economy, such as: crew members, netters, inspectors, patrons, auctioneers of fish markets, scientists, managers of the sea, technicians, researchers and businesswomen. And its role, presence, importance and contribution is expected to continue to grow in the future.
What has been its evolution in the last decades?
In recent decades, the presence of women at sea has experienced a significant evolution. Although there are still significant challenges and barriers to face.
The pioneers paved the way, but it was not until the 1990s when women began to hold positions of responsibility in this field. With Cyndy Lee Van Dover piloting the Alvin submarine and with the charismatic Sylvia Earle, as NOAA's chief scientist.
In the ports we begin to see women crew members of ships of all types and sizes, from fishing boats to large cargo ships. Progress was also made in promoting gender equality in the maritime sector. In 1988, the International Maritime Organization (IMO) adopted the Convention on Standards of Training, Certification and Watchkeeping for Seafarers, which includes provisions on non-discrimination on the basis of gender. Since then, various initiatives and programs aimed at promoting gender equality in the maritime sector have been enacted.
In the scientific field, the number of oceanographers, engineers, biologists, marine scientists, technologists, researchers... has not stopped growing. And many lead projects, research, companies and administrations.
However, despite the progress made in recent years, there is still no effective equality between men and women and the presence of women in some sectors related to the sea, such as fishing or the naval industry, continues to be very low.
What role do you think women will have in the Blue Economy?
I believe that women will have, and must have, a crucial and fundamental role in the blue economy, by the very definition of the concept. The sea is an engine of innovation and development. In the words of Sylvia Earle "No water, no life. without blue there is no green",
Let me explain… In 2010, the Belgian economist Gunter Paul popularized the blue economy, after publishing his book. His main idea is based on developing production processes that imitate the way nature works. In other words, that the resources used are used to the maximum, that the waste generated is scarce or, if produced, it is transformed into raw materials to create new products. My grandmother was already working in what we call the blue economy without knowing it!
The blue economy encompasses all sectoral and cross-sectoral economic activities based on or related to the oceans, coasts and seas. Therefore, it includes all activities related to water, the sea, the coasts and the oceans. It is not only based on the more traditional forms of use (such as fishing and aquaculture), but also combines a broader vision of activities that can offer important sources of sustainable economic development for States and coastal communities in particular. As such, it offers a wide range of opportunities for women and men in different areas and levels.
As an oceanographer, do you find the woman with enough presence?
Despite the progress made in recent years, there is still no effective equality between men and women and the presence of women in some sectors related to the sea continues to be low.
A lot of female talent continues to be wasted. Women are good "doers", we contribute ideas and commit ourselves to projects. But… there is still a significant gender gap, for example, in leadership positions.
Women continue to spend more time than men on less glamorous management and research tasks. Meanwhile, work that leads to networking and advocacy opportunities, such as leadership of research groups, companies, projects and presentations, serving on company and organizational boards, etc., goes disproportionately to men."
This High Technology Incubator project for the promotion and encouragement of innovation and technology transfer to micro-SMEs in the Blue Economy sector in Andalusia "[BlueEcoIncuba x Logistical]Tech = ZONA BASE – THE INCUBAZ" through the INCYDE Foundation, is financed 80% by the European Regional Development Fund within the Pluriregional Operational Program of Spain ERDF 2014-2020 AFTER. "A way of making Europe" within axis 3: Improving the Competitiveness of SMEs, Thematic Objective 3 Improving the competitiveness of small and medium-sized enterprises, and investment priority 3ª Fostering entrepreneurship, in particular, facilitating the economic exploitation of new ideas, and promoting the creation of new companies, also through incubators.