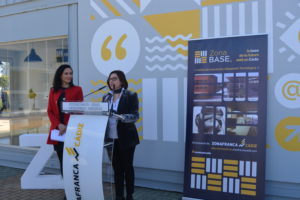 The development will begin with the installation of a high-tech incubator specialized in Blue Economy
The Center for Innovation and Technological Expansion will occupy the former Ibérica Aga plot in the outer polygon
Cadiz, March 4, 2020
The Free Zone of Cádiz has obtained a subsidy of 2,520,000 euros granted by the Plurirregional Operational Program of Spain Feder 2014-2020 "A way of making Europe" and managed by the Incyde Foundation, which will facilitate the start-up of the first phase of the Base Zone project that will be located on the old plot of Ibérica Aga in the outer polygon. In this way, 80% of this development is financed, which entails an investment of 3,150,000 euros.
The State delegate in the Free Zone, Victoria Rodríguez, and the director of Feder Projects of the Incyde Foundation, Natalia Vázquez, offered a press conference this morning in which they explained details of the project that will turn this area of ​​the city of Cádiz into a Center for Innovation and Technological Expansion, which will include a highly innovative incubator dedicated to the Blue Economy sector.
As explained by the representative of the Incyde Foundation, an entity of the chambers of commerce that has acted as an intermediate body, the development of the project will begin with a high-tech incubator that will be a pioneer in Andalusia and that has achieved the highest score among the Andalusian proposals that applied for Feder aid.
Natalia Vázquez has advanced that this incubator is considered as an instrument for the promotion of innovation and technology transfer specialized in the Blue Economy sector, although it will also include other technological and logistics sectors that will be complementary.
The State delegate, for her part, expressed her satisfaction with the importance of this milestone, which "will be the starting signal for the development of the Base Zone and will allow the development of the first phase, turning this area into a high-tech productive focus that will be able to welcome the great innovative talent of our province and promote job creation."
Victoria Rodríguez explained that "the enviable situation of Cádiz gives us the opportunity to be a benchmark in the Blue Economy due to the possibilities that we have within our reach, coast, wind, sun, etc., all within the framework of innovation and sustainability and the Government's Sustainable Development Goals (SDGs).
The Zona Base Technological Innovation and Expansion Center, with its high-tech incubator, will be a focus for entrepreneurship and revitalization of the province's economy and will respond to a demand for spaces and services from specialized companies that will boost job creation throughout the area.
The facilities will be configured with maritime containers, which provides speed, energy efficiency, cost savings and adaptability to the needs of entrepreneurs, who will also have access to common equipment and services, both professional and leisure.
Los usuarios de la incubadora, que contarán con un ecosistema de apoyo del que formarán parte distintas instituciones y empresas, optarán a servicios tales como mentorización, programas de intercambio o asesoramiento para financiación pública y privada, todo ello por un período máximo de un año para las iniciativas nuevas que se instalarán en coworking, mientras que los proyectos más consolidados pasarán a ocupar oficinas individuales por un tiempo máximo de 5 años.
El proyecto Zona Base, que será un polo de concentración de actividad económica eficiente adaptada a la nueva economía, se está desarrollando con detalle y respondiendo a las necesidades reales del tejido emprendedor y del talento innovador de Cádiz. Para ello, el Consorcio ha estudiado y conocido iniciativas novedosas en la misma línea que están poniendo en marcha otras zonas francas como el World Car Center en Vigo y la incubadora de impresión en 3D de Barcelona.