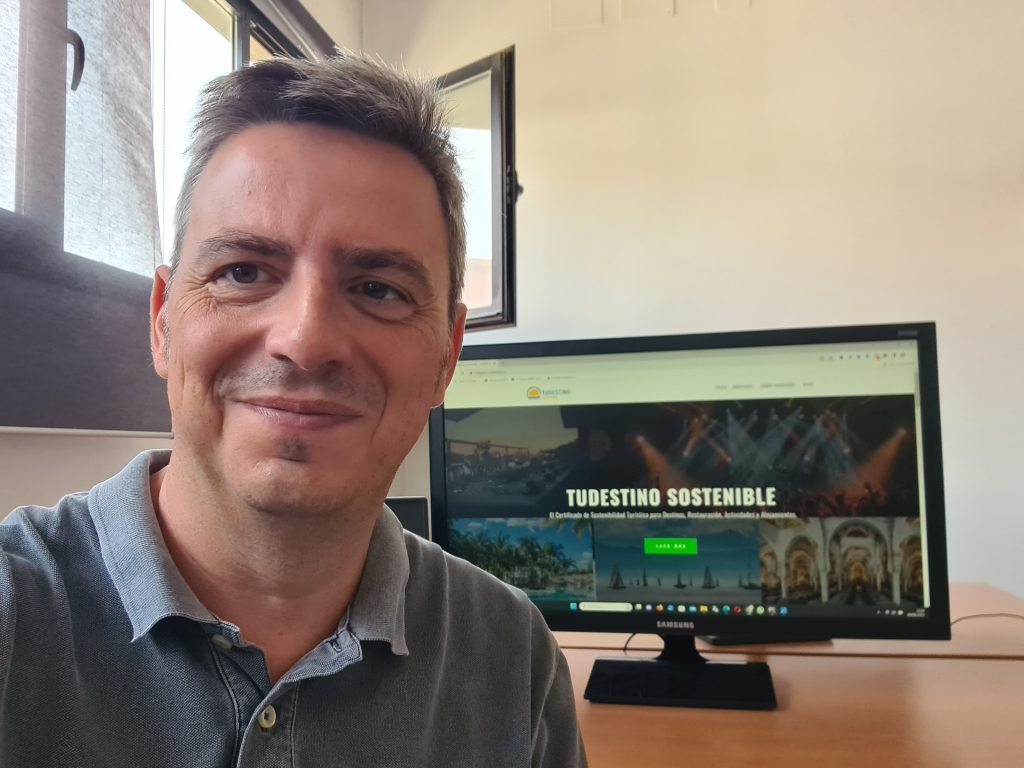 Alfonso Matías Manday (Cádiz, 1976), is a professional project manager and chemical engineer from the University of Cádiz, and will be one of the speakers at the III Lab Incubazul on sustainable coastal tourism.
His more than 20 years of professional experience and his close relationship with the sector guarantee him, as he has worked in engineering, consulting, the environment, project management and digital marketing. For this he previously specialized through numerous master's degrees (environmental engineering, renewable energy, energy efficiency and MBA).
He is one of the promoters of the startup Your sustainable destination, one of the first to be incubated in Incubazul-Cádiz Free Zone. He currently holds the position of project manager for this sustainability certification.
Alfonso Javier answers some questions about the Next Lab, which will take place on September 20 at the Incubazul Agora.
What do you think sustainable coastal tourism contributes within the framework of the Blue Economy?
I believe that it plays a fundamental role in the development of both coastal destinations and in the different Blue Economy activities directly or indirectly related to tourism.
Those destinations that are committed to implementing a sustainable coastal tourism model, apart from differentiating themselves from other destinations that are not committed to these models, obtain benefits both at an economic, environmental, social and cultural level.
These benefits, to name a few, may be the following:
Generation of quality employment, since it creates employment opportunities in coastal communities, especially in activities related to tourist services and conservation of the marine environment.
Economic boost, by stimulating the development of sustainable tourism businesses and increasing the demand for local products and services.
Conservation of the marine environment, since it promotes its conservation and protection with sustainable practices, such as the responsible consumption of resources, the reduction of pollution and the protection of marine life.
Promotion of environmental awareness and appreciation of the traditions and cultural heritage of coastal communities.
Improvement of the quality of life of local communities and the cultural identity of these communities, strengthening social cohesion and a sense of belonging.
What characteristics does this tourism have that make it more sustainable?
There are several features that differentiate it from other models and that contribute to making destinations more sustainable.
Sustainable coastal tourism is characterized by its comprehensive and balanced approach, taking care of the environment, benefiting local communities and promoting the preservation of culture and natural resources. This is achieved through a planned management model that, among other things, takes into account the following aspects: conservation of the environment and biodiversity, efficient use of resources, benefit to local communities, preservation of local culture, environmental awareness and education
Do you think that the future of tourism in Spain necessarily involves sustainability?
Yes, and I would add that not only from tourism. I firmly believe that the country's economic future requires a clear commitment to sustainability and the implementation of a sustainable production model.
And by focusing on tourism, I believe that sustainability is essential to ensure that it can last in the long term, minimizing negative impacts and maximizing benefits for the environment, local communities and tourists.
Do you think that Cádiz can play a role as an "exemplary destination" in sustainable coastal tourism?
I believe and hope that it can become a sustainable coastal tourist destination. We have a province that has a rich marine biodiversity and beaches of great natural beauty, which is an attraction for tourists interested in sustainable tourism and environmental conservation.
Cádiz has already taken steps in that direction, implementing measures such as sustainable beach management, the promotion of artisanal and sustainable fishing... However, there is still a lot of work to be done.
It is necessary to implement long-term policies and strategies that promote sustainability at all levels: from the management of tourist flows and urban planning, to the promotion of the local economy, environmental education and the participation of local communities in the decision making.
It is also necessary that the tourist companies that make up the destination adopt sustainable management models and implement them in their business strategy.
As to Your sustainable destinationHow does your solution contribute to the sustainability of marine resources?
Initially forming a community of companies and destinations that are committed to sustainability.
Our sustainability certification allows tourism companies (restaurants, accommodation, activities, active tourism, wineries) to work on sustainability with a planned management model, adapted to the reality of the company and transversal.
The companies that enter our certification program have an initial diagnosis that allows us to set realistic objectives to improve the performance of those companies in terms of sustainability. Those whose activities are carried out in maritime environments have specific objectives and actions to guarantee the sustainability of these resources.
With respect to destinations, it allows them to have a precise diagnosis and a road map to be able to implement the policies and strategies that make it a sustainable destination.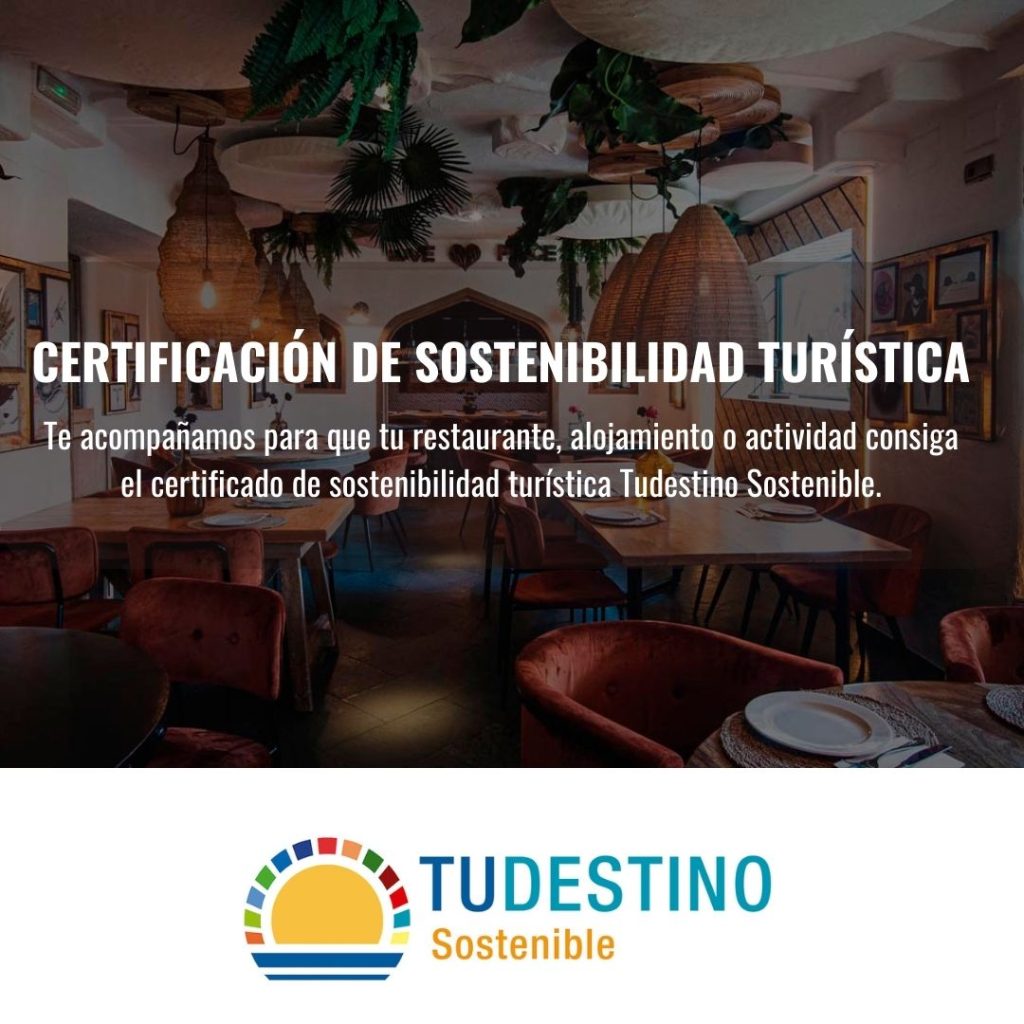 You are one of the oldest startups in Incubazul, how has your experience been in the incubator of Zona Franca de Cádiz?
We entered the first batch, I think with another 5 startups. We have seen the spectacular growth of the incubator in the last two years and we feel we are an active part of it. We are very grateful to all the professionals who work there.
For Tudestino Sostenible, our time at Incubazul at all levels has been essential.
Initially, because it helped us develop our business plan with top-level advice. And later, because we have felt accompanied and supported throughout the process of creating our certification.
As far as mentoring is concerned, which mentoring areas have provided the most value?
It is difficult to single out one in particular. Incubazul has an exceptional team of mentors, who cover all the areas necessary to develop a business idea.
Among the mentors we have had, there is a very special person for us since he was our head mentor at the beginning, Jose Antonio Herreros from MissCar.
I would also like to mention the team behind the incubator, Nacho, Marina, Mariluz, Jesús, Miriam…
Now focusing on III Lab that will delve into sustainable tourism, what content do you highlight from it? Why do you encourage to participate in this one?
I like the structure and focus that has been given to this day. I think it will be a very interesting and necessary day.
Firstly, because we will be able to learn about the experience of renowned professionals in the field of sustainable and coastal tourism. Related entrepreneurial initiatives that have come out of Incubazul will also be presented. In the last part, it will be possible to debate and share proposals or ideas.
Finally, an obligatory question, what would you say to other entrepreneurs who want to launch their project based on Blue Economy?
Make a good business plan, seek outside help and launch. Or in other words, present your project at Incubazul, it is the perfect place to speed up this type of project.
Incubazul has the support of the European Union that co-finances it, through the Incyde Foundation, of the Chambers of Commerce of Spain, 80% by the FEDER within the Plurirregional Operational Program 2014-2020 within axis 3: Improving the competitiveness of small and medium-sized companies and the 3rd investment priority Promotion of entrepreneurship, in particular, facilitating the economic exploitation of new ideas, and promoting the creation of new companies, also through incubators.
This High Technology Incubator Project for the promotion of innovation and technology transfer to microSMEs in the blue economy sector in Andalusia "[BlueEcoIncuba x Logistical]Tech = ZONA BASE – INCUBAZUL 2.0" is 80% financed by the European Regional Development Fund within the Pluriregional Operational Program of Spain FEDER 2014-2020 OP. "A way of making Europe" within axis 3: Improving the Competitiveness of SMEs, Thematic Objective 3 Improving the competitiveness of small and medium-sized enterprises, and investment priority 3 Promotion of entrepreneurship, in particular, facilitating the economic exploitation of new ideas, and promoting the creation of new companies, also through incubators."