A journey with 4 stops and five questions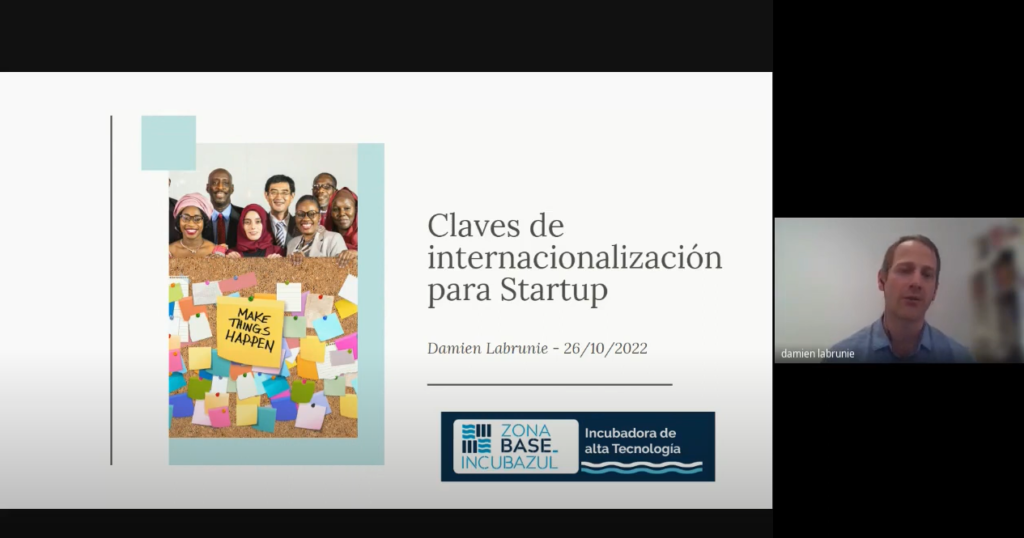 The business mentor and international expansion, Damien Labrunie (Normandy, 1977), gave an online Masterclass at the VIII Open Day of Incubazul, dedicated to addressing the keys to internationalization for startups. Labrunie presented his Masterclass through a trip with four obligatory stops, referring to the four companies in which he has participated as founder, co-founder or partner. Throughout this journey, he took five key questions as his plot line:
Why internationalize?
In response to the first question, Incubazul's mentor proposed various circumstances for which one should go abroad: to be profitable; to go to more mature markets with numerous clients and high purchasing power; also to go to less mature markets with less competition and easier to be leaders; to learn and discover a new market; and to produce.
When to internationalize?
To answer, he gave three possible options. When you're ready, and he gave his dansailing initiative as an example. When there is an opportunity, with the support, for example, of the public administration and, where appropriate, it was the support of the Andalusian Agency for Foreign Promotion Extenda. And finally, when the funds are raised.

In response to the third point, it may be in a known market, in his case it was France, through contacts. At the same time, it recommends doing it in a growing market or in an important, large, mature or safe market. In this sense, he recommends having, when possible, experienced personnel "since it is always better, because, apart from bringing a network of contacts, it allows speeding up internationalization and speed is essential for startups."
How to internationalize?
The mentor stopped extensively on this key, and referred to different models. He tells how to get to do it through intermediaries, franchises, with a permanent establishment or outsourcing.
"Not having money is sometimes a blessing, because we look and pull from our network of contacts," he said. That was what Damian Labrunie did with Dansailing, with a minimal investment for France and then for Italy, where he wanted to test that market, and in which he found an interested young man who was studying business creation, and who took the opportunity to do university internships in the project, and even transferred the initiative, later, to Rome. "When one does not have the means, he can and should try other methods"

Agile method. 12 principles
Damen Labrunie stopped at the Masterclass on the Agile Method and its 12 principles "which are a benchmark in the computer programming sector, but which can be transferred to internationalization and many other aspects of life. We should read it every morning":
Satisfy the client, adapting it to any point. "It may be different from here. You can even change the business model, price, design, etc."

Change everything and faster and faster. "I try to instill this in my teams, since what works today may not work tomorrow. Therefore we have to keep in mind how to be effective tomorrow".

Delivering results is essential. And you have to communicate them.

Working together internationally and being connected on a daily basis.

You have to work with motivated and experienced individuals.

The most efficient method of communicating is face-to-face, either in person or online "to save fuel and time."

Functioning should be the main measure. "Therefore, we have to define real and effective indicators of success."

Sustainable development: a constant and sustainable rhythm must be found indefinitely.

The search for excellence "but keep in mind that better well done than perfect. Without going over Sometimes you have to move forward, even if the fringes are a bit loose".

Simplicity is essential, although it is usually the most complicated. You have to simplify the process on a daily basis.

The best designs come from self-organized teams.

Think how to be more effective, to adjust and perfect the work. " And once it works, you don't have to trust yourself, because we must be on the lookout for innovation and the market".

With what financing to do it?
"In my experience, we have worked with Extenda (Andalusian Public Company for Foreign Promotion), with the Provincial Council of Cádiz and with the Chamber of Commerce".
Labrunie also refers to other important elements in terms of financing such as ICO loans, as well as potential investors.
Extensive curriculum
Settled in Spain since the year 2000, Damien Labrunie explained his work experiences for 20 years in company creation and innovative strategic processes in companies from different sectors: technology, distribution, professional services, construction, tourism and food.
Incubazul's mentor goes back to his first work experiences in Spain in the year 2000, when he created an online boat rental agency with a presence in France, Italy and Spain. After 8 years of growth, he gave up the activities (they are still operational www.dansailing.com and www.danfluvial.com ) to become an independent consultant advising Spanish and French companies in different areas, mainly in strategy and transformation and as a mentor to entrepreneurs.
Since 2007 he has been an advisor to www.nautiel.com , a company specialized in cleaning and maintenance of boats and mega yachts.
Between 2014 and 2020, he is the co-founder of a French startup dedicated to digitizing the reform sector, thanks to a mobile application and is in charge of the Spanish expansion and the development of new business and financing models.
Since 2016 he has been a co-founder of the non-profit labor insertion cooperative www.cacontigo.com , taking charge more specifically of strategy, marketing and export.
Since 2020 he has been a partner of another French startup, sportiw.com, the "linkedin" of competitive athletes, and is authorized for Spain and Latin America.
You can see here the Masterclass completa on the initiative's Youtube channel.
The Open Days are open days for you to get to know Incubazul that also have the intervention of one of the initiative's mentors who will give you free advice for your project. Join our next Open Day!
This High Technology Incubator project for the promotion and encouragement of innovation and technology transfer to micro-SMEs in the Blue Economy sector In Andalucia "[BlueEcoIncuba x Logistical]Tech = ZONA BASE – INCUBAZUL" through the INCYDE Foundation, It is financed 80% by the European Regional Development Fund within the Pluriregional Operational Program from Spain FEATHER 2014-2020 AFTER. "A way of making Europe" within axis 3: Improving the Competitiveness of SMEs, Thematic Objective 3 Improving the competitiveness of small and medium-sized enterprises, and investment priority 3ª Fostering entrepreneurship, in particular, facilitating the economic exploitation of new ideas, and promoting the creation of new companies, also through incubators.