Mark your way with Incubazul and let yourself be advised by the number 1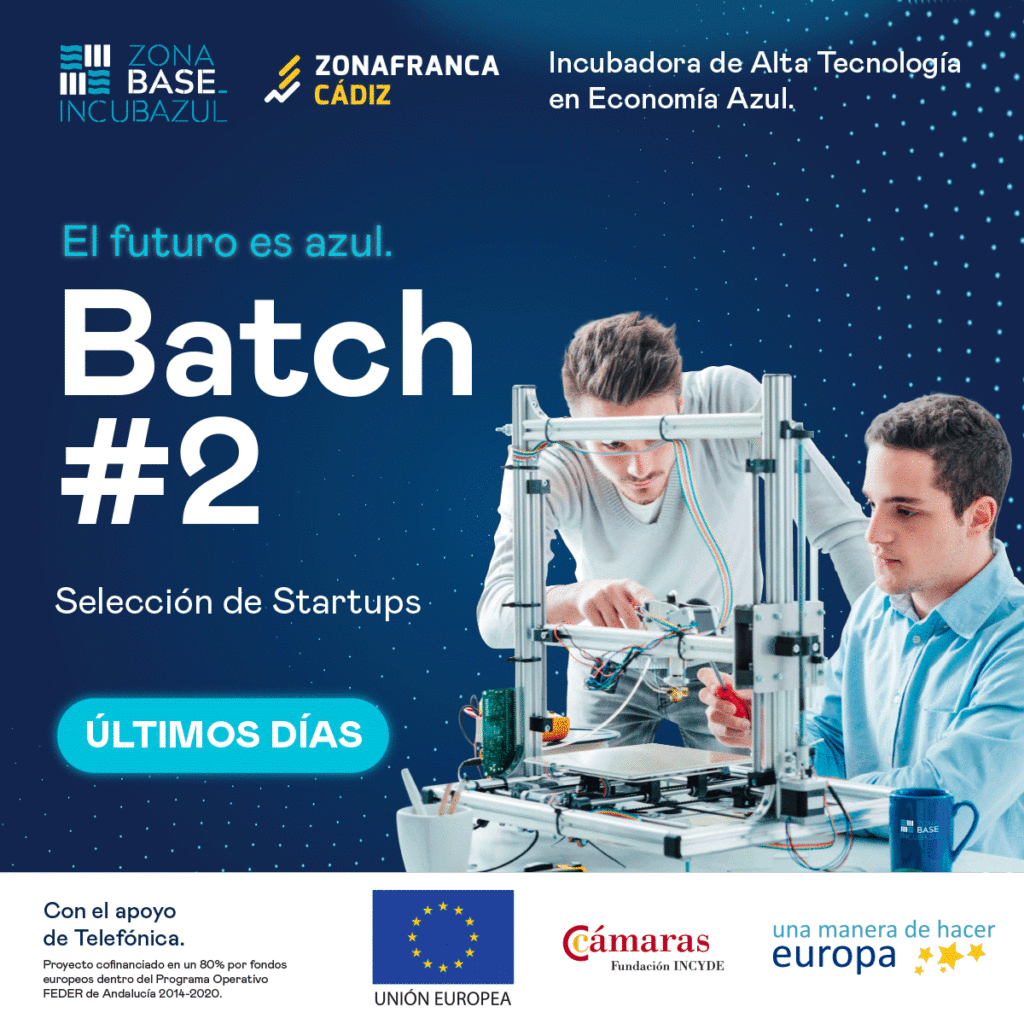 Hop aboard Incubazul and quickly reach cruising speed in entrepreneurship!
The High Technology Incubator (IAT) in the Blue Economy still has the registration period open for Batch #2. The call will close registrations on September 8, so there are only a few days left to join this entrepreneurial adventure. You are in time to join the enthusiasm of a team in which everyone contributes to gain value and innovation. The new entry window entails a pre-selection of projects that meet the conditions of the call and a Pitch Day in which entrepreneurs present their project to an evaluation committee, made up of experts in entrepreneurship and the blue economy. The initiatives that pass both milestones will enter into a comprehensive acceleration program through the methodology of Telefónica Open Future, which collaborates in this project.
We remind you that Incubazul is a project financed by the European Union through the ERDF and its multi-regional operational program 2014-2022, through the Incyde Foundation and promoted and developed by the Cádiz Free Trade Zone.
If your initiative works in these sectors, sign up!
The IAT Base Zone Incubazul aims to promote innovation and technology transfer to micro-SMEs in the Blue Economy sector in Andalusia. Ideas or companies with the desire to undertake in some line of business of the blue economy arrive at our incubator.
It includes subsectors as diverse as marine bioresources, coastal tourism, long and short-distance maritime navigation, pleasure boating and ports, maritime transport services for passengers or goods, including fishing, aquaculture , coastal protection, offshore wind energy, monitoring and surveillance, blue biotechnology, desalination, marine aquatic products, marine mineral extraction, or ocean renewable energy, etc.
It is easy. Apart from belonging to these activities, the selection process will take into account the following eight aspects: technology; value proposal; market potential; degree of maturation of the project; viability; degree of innovation; business opportunity and internationalization; and human team. Projects that pass this phase have almost everything done and will go through a final selection process.
If you feel like starting a business, Incubazul takes you to the next level! Your business idea is forged and reinforced here.
Ready to be accelerated?
Join Incubazu's entrepreneurial adventure!
We believe in the emotion of collaboration and exceptional support, since INCUBAZUL is also personal development. Assertive advice is the best for establishing healthy relationships with a future. Accessing the acceleration program means entering into an exceptional inflection, having everything ready to set sail with a series of very clear advantages.
Offer a comprehensive service with everything that a company may need to consolidate and grow.
On the other hand, the program establishes three phases: incubation (pre-seed); acceleration (development and growth) and consolidation (implantation)
Six reasons to say yes and join Incubazul
But what are the advantages of being accelerated? The first one offers you incubation spaces. With physical accommodation, at the Incubazul headquarters, or remotely, in individual or shared offices (coworking), meeting and training rooms.
The second brings you to a complete training and mentoring program. In charge of Telefónica, in tutoring, training and support for internationalization.
The third deals with a networking program. With what this implies of establishing contacts with stakeholders or interest groups associated with them.
The fourth advises you on access to financing. Favoring the search for financing channels with the aim of turning the startup into a viable and profitable company.
The fifth guarantees you to facilitate the investigation. With own accesses and research infrastructures or those of third parties. And finally, a wide portfolio of services.
Blueway's formative adventure also begins
Together with Batch #2, Incubazul launches the complete Blueway training program. Different training itineraries on topics as interesting as Coastal and Sustainable Tourism; Aquaculture;
Undertake successfully; and the Blue Economy.Join the attractive Incubazul training program and sign up for our training plan .
This High Technology Incubator project for the promotion and encouragement of innovation and technology transfer to micro-SMEs in the Blue Economy sector In Andalucia "[BlueEcoIncuba x Logistical]Tech = ZONA BASE – INCUBAZUL" through the INCYDE Foundation, It is financed 80% by the European Regional Development Fund within the Pluriregional Operational Program from Spain FEATHER 2014-2020 AFTER. "A way of making Europe" within axis 3: Improving the Competitiveness of SMEs, Thematic Objective 3 Improving the competitiveness of small and medium-sized enterprises, and investment priority 3ª Fostering entrepreneurship, in particular, facilitating the economic exploitation of new ideas, and promoting the creation of new companies, also through incubators.